Channels TV Live Online From Nigeria

Go to Channels TV Website | Video Channel
Channels Television was live.
Monday, August 20th, 2018 at 1:58am
They talking about 60% of Northern population abuses drugs, look at the Police commissioner of Katsina state, if he is tested for drugs abuse, I bet he will be found guilty.
Where Dan Nwayanwu,they are known to be rebellious rebels and where belle face.The dogs there,even go as far as eating their very own vomits.
This people what are they after, is there no other profession aside, joining association and making money of this bodies.
The Zoo cal Nigeria will come to and end this or else every animal in the zoo will die
Let's move from the social media to the field to perform our civic responsibilities.
Can't this people go into private business, and not live on association and government bodies.
This police officer could easily be buhari's younger bro, he so looks and talks like him.
The police are used more than half of the entire police force to protect the lives of these elected officials that is terrible, same goes for the army though the precise numbers for the army is not known, a totally unacceptable trend.
Nigeria is a british jungle, It´s a lawless land without past, present and future. So you can shout till thy kingdom comes. the country is cursed:
The UK have recharged Buhari battery and updated His software, but forgot to delete old files. He is still repeating what he has been saying since his last medical tourism. Jail jail jail.
All this people that's shouting we should vote for them do have God fathers that they will be reporting to and rules us with their instructions #oldevilpeople
Pro Kingsley M, is the best candidates for me.. O with my psychological thinking. Professor Kingsley M, for president 2019 if the will not rig the election because APC is very desperate for power.
For those you preaching to take over your country Nigeria. Do you have gun to take it, you can't take it with empty mouth. Your Vote don't count.
Zoological republic of animal nd her citizen will suffer when we pick up arms just give us Biafra because we pick up arms because no animal will survive in the zoo cal Nigeria
Vote #Dankwambo2019 #GoingBeyondPromises #RightmanRightChoice Zamfara state is a mess, but Buhari is more concerned with his re election
It clear that Chris Giwa camp want Nigeria to be banned from football activities for their selfish interest,why not wait for next month for new election
What is even wrong about all level of leadership in this country(Leadership is all about results oriented)A good leader don't think or worry about the past bcoz the past does not generate results.
Dan Nyanwu,thunder will fire you for telling Buhari to pally with Mesujamba of Ilorin.Brightness and darkness can never meet.
Vote #Dankwambo2019 #GoingBeyondPromises #RightmanRightChoice the focus should not only be on football when it comes to sport
I was told that ayefele music house was demolished just because ayefele refused to take pictures with ajumobi in someone wedding
Nigeria is a lawless country. You can only get justice if you are among the elite. The Nigeria's law is made for the poor.
I find out that most of the people watching this channel TV on Facebook are not in Nigeria. Becus nobody in Nigeria can waste his MB watching news. Becus of poverty in the country
Biafrans all over the world and nd more Expecially Biafrans in biafra land 14th of September is sit at home all over biafra land
Nigeria, apologize to biafrians and restructure or allow biafrians to go and your sins we be forgive and you get a better Nigerian
@John major, your comments shows how immature you are in the affairs of life and relating with people. I will not descend to you level of immaturity.
Monday, August 20th, 2018 at 4:08am
Saraki, Tambuwal Left APC Because They Wanted Automatic Ticket - Tinubu. https://t.co/gZ39HgLFPb https://t.co/fAJz0Nvxuw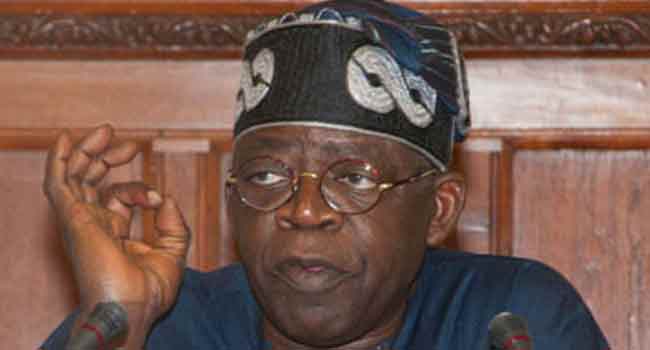 Watch Channels TV Live Online From Nigeria
This is the English version of the Channels TV live stream from Nigeria. Channels TV live online provides continual coverage of Nigeria national news, Africa news, and world news. There's no requirement to provide cable login credentials. Just click on the screen and you'll get instant, easy access to the English version of Nigeria's Channels TV Live News online.
Channels TV – Wikipedia
Channels TV – Wikipedia
Channels Television is an independent and multiple award winning 24-hour news and media television channel based in Lagos, Nigeria. The parent company Channels incorporated was founded in 1992, a year before the Nigerian government deregulated the broadcast media and began broadcasting in 1995. Its primary focus is producing news and current affairs programs on Nigerian domestic issues. The Channel's mission is to act as a watchdog on governmental policies and activities. Operating in Nigeria's popular broadcast media market, Channels Television is the first and only thriving national TV brand, dedicated solely to the dissemination of news. It is the first Nigerian broadcaster to stream its television programming live for 24 hours.
For other Africa news sites see Africanews here.