Watch TV Networks Online Without Cable — How To Get Access
Trying to figure out which channels or shows you can stream without cable or satellite? Here's how to watch any channel online — for free or cheap.

Can you watch your favorite TV, sports, and movie channels online without cable? What if you want to watch a channel in a different country — is it possible? Answering these questions isn't as easy as it should be.
So we've made it easy. Here, we walk you through exactly how to find all the options available to watch your favorite networks, TV shows, and sports events without a cable or satellite subscription. We take you through the possibilities step-by-step, from the most obvious to the somewhat obscure.
Below, you'll also find a complete list of TV and sports networks (legally) available with an internet TV subscription service.
If you don't care about the "legally" part, then you can use Kodi to stream virtually any channel or show for free, both live and on-demand, from any country. Learn more about how to use Kodi and what you can watch.
To clarify: What do we mean by 'getting a channel without cable/satellite'? For the most part, we mean being able to watch all of the channel's programming live as it airs, just like you can do with traditional TV. Some channels make certain shows available on streaming services like Netflix, Hulu, Crackle, Vudu, etc. — but that's not what we mean. We mean getting access to everything the channel broadcasts. So there's no difference from what you'd get with cable.
Lots of cable and satellite providers now give their customers access to stream channels online, on various devices. It should be obvious to you if your TV provider (if you have one) does this, so that's not what we're talking about here either. If you're still in, read on.
How To Watch Your Favorite Channels & Shows Online — Step-By-Step Help
Follow these simple steps to see how to watch any TV channel online without cable.
Try The Channel's Website
STEP 1) See if you can stream the channel on its official website. Lots of channels have live streaming and video-on-demand access on their sites nowadays. (Use the search box above to find channels and see their online streaming options.) However, the popular networks will require login with your TV provider. So if that's the case, proceed to the next step. (If you're a US citizen living abroad, check out Step 5.)
To stream content in a different country: If you want to watch a TV channel or sports stream from a different country, but can't get access to its live or video streams because of geo-restrictions (as in the picture below), you can use a simple workaround. More on how to unblock any website or unblock any sports site or streaming service. Note that this also works to get access to subscription services in other countries.

Use A Streaming Service
STEP 2) Use the chart below to see if the channel is available via a cable TV alternative — also called a streaming service, or Internet TV. The main options are:
+ Internet TV providers FuboTV (now expanded to more sports and entertainment), YouTube TV, Sling TV, PlayStation Vue, DirecTV Now, Hulu Live TV.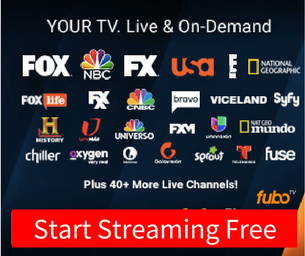 + Amazon Prime Video, which streams a handful of popular channels like HBO and Showtime.

+ Standalone streaming services (also called a-la-carte services) that give you access to a single channel (examples: HBO Now, Showtime Anytime, and CBS All Access).
+ Niche sports streaming services (examples: NBA League Pass, NFL Game Pass, etc.).
If the channel you want isn't in the chart below, or you're looking for a cheaper option, proceed to Step 3.
Outside the U.S.? You can get Sling TV, PlayStation Vue, sports streaming services, and etc. even if you're not in the U.S. Yes, these services are typically only available to U.S. residents — but there is a workaround. More on how to get popular streaming services from anywhere.

Use Kodi
STEP 3) If you still can't get access to a channel, it's time to venture outside the mainstream. [A cautionary note: If you get squeamish about stepping on the toes of copyright holders skip to Step 4. Unfortunately, you've exhausted your online options, so you'll have to see if you can get it over-the-air while you wait for it to become available to stream.]
If you're still reading this then you're at least curious and perhaps more. So it's time to explore Kodi.
Kodi is a media player. You can use Kodi to stream TV shows, movies, live sports and live TV from the internet. (For a more detailed explanation, see 'What Is Kodi?'.)
Kodi is free to download and use, and works in any country on almost any device. It's a very powerful, versatile, and slick platform and it is rapidly rising in popularity.
You can use Kodi to watch content you pay for. But Kodi is popular because you can also use it to watch tons of stuff without paying — from sources like HBO, Showtime, ESPN, and many more.
To see what Kodi can do and how to get started, check out our beginner's guide on how to use Kodi. This will show you how to use Kodi to watch TV, movies, and live sports without the expensive subscriptions on a vast library of popular channels.
One major note: Using Kodi to stream TV without paying for it comes with some risk. First, some channels/media companies/government agencies won't be happy you're watching paid content for free. Kodi users can, and often are, hit with copyright infringement. Plus, Kodi's security issues can be dangerous if not avoided. Therefore, to keep out of trouble, you'll need to take steps to stay safe and anonymous on Kodi. The best way to do this is by using a VPN with Kodi. A VPN will encrypt your connection, hide your identity, prevent tracking and monitoring, and keep you safe from spies and hackers. See the best VPNs for Kodi. If you're not familiar with VPN, don't worry, they're really easy to use. See how to use a VPN to stay private and secure on Kodi.
Get An Antenna
STEP 4) If you still can't stream a channel online, you can try picking it up over-the-air. Especially if you live in an urban area, you have a good shot at getting all the major broadcast networks for free (ABC, CBS, NBC, FOX, PBS, My9, CW), plus 20-30 others.
To do so, you'll need a decent TV antenna. Antennas have come a very long way in recent years. But it's still hard to figure out which kind of antenna you need for your home/location.
Here's an indoor HDTV antenna ($50) that the majority of people will be very happy with. It has a 50-mile range, which should pick up about 20 channels, plus lots of other nice features you can read about here.
Watch On USTVNow
STEP 5 — ADDITIONAL OPTION FOR US CITIZENS ABROAD) Americans living or traveling overseas have another option available: USTVNow. You can watch U.S. TV for free with USTVNow on your desktop computer on the following channels: ABC, CBS, NBC, FOX, PBS, My9, CW.
For $19/month you can get 28 channels, including some of the most popular networks: ESPN, AMC, A&E, Cartoon Network, Comedy Central, FX, USA Network, TBS, and more. You can also stream on any device. For $30/month you can get a DVR plan.
It's an excellent service, with impressive streaming speeds and a nice interface. If you're tempted to try to use USTVNow from inside the U.S., don't bother. You'll be geo-blocked.
Get a free trial of:
NordVPN (to unblock geo-restricted content)